2021
Solar is a disruptive swivel table concept designed by Marc Krusin, that leads to new ways of working and collaborating for both Indoor and Outdoor scenarios. Solar Outdoor is formed by a swivel table with an integrated seat which rotates depending on the user's needs, ensuring proximity but also privacy. The structure is made out of metal, the tabletop can be oak or compact and the seat can be in oak or compact too or upholstered in any of our outdoor fabrics.
A versatile table for use in outdoor areas such as urban spaces as well as offices, schools, universities, restaurants and coworking spots. Includes a small hanger under the tabletop to keep your belongings within reach.
Optional external charging system available. Having a fixed base to the ground is also possible, being a great solution for public spaces.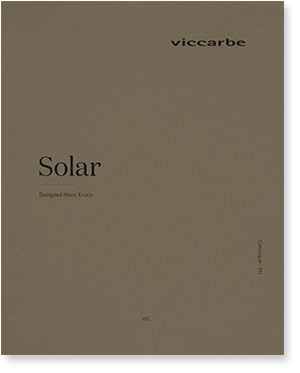 View catalogue
Marc Krusin graduated from Leeds Metropolitan University with a BA (Hons) degree in furniture design.
Following placements with Fred Scott in London, George Sowden in Milan and a brief professional experience in Leeds, he began his career in Milan collaborating as a designer with various studios. These include Piero Lissoni's office, where he is presently Design Manager and develops projects for clients of international reputation.