4 January, 2019
John Pawson receives CBE in Queen's Elizabeth II New Year's honours
Congratulations, dear Pawson! We are happy to share that the British designer has been recognised in Elizabeth II's New Year's Honours list 2019 with a CBE (Commander of the Order of the British Empire), for his services to design and architecture.
Because there's a great story behind every Viccarbe design… for us it's been such a honour to develop the Trestle collection by his hand. Let us take the chance and explain how this collection was brought to life.
***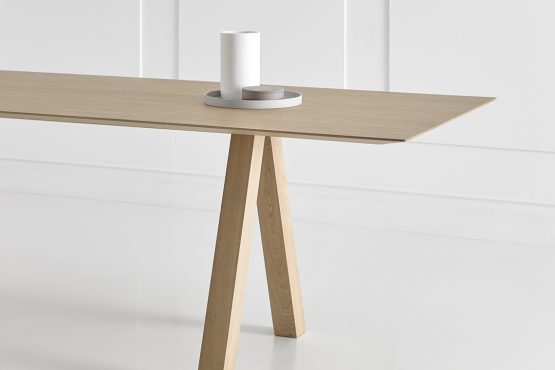 In 2014, John Pawson bestowed his essential minimalism on a new family of tables and benches. Initially, it was a work of synthesis that would see the light within the walls of the Design Museum in London. Later, in addition to its presence in this temple of contemporary design, it would be incorporated into the Viccarbe collection thanks to the relationship we established with the British architect.
The new family was proposed by Pawson as a conclusion; as an answer after his questioning of the way in which a product is able to dialog not only with the user, but also with space, proportions, light, and materials.
Let us say that, from the point of view of the architect himself, a space conceived with clarity should not suppose an existential void, but rather the opposite. Because simplicity becomes the best way to find that freedom we are constantly looking for.
Fortunately, these pieces, made to measure for one of the most significant buildings in the world, taught us to master how content and contingency could come to converse. It is precisely this idea that has prevailed from the beginning in all versions of the Trestle family. Its maximum versatility has managed to reinvent the traditional concept of table, being today one of our most significant best sellers.